Our Gaushala
Our Gaushala is at Jasdan Area, around 60 Km from Rajkot - Gujarat. More than 10 Gaushalas near jasdan & around 1000+ Desi Gir cows are associated with us. Our Gaushala is surrounded by forest area, so we can able to provide pleasant & natural atmosphere to our cows. We serve and maintain our Cows with care, love & respect by traditional Vedic way.
Our Cows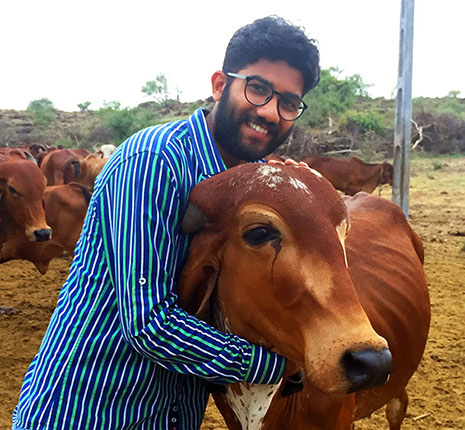 About Gir Cow - The Golden Cow
Most important of all the difference is that the Gir cows are beautiful in looks and they are full of loving emotions. When Gir Cow milk is consumed then its loving emotions are transferred to human being. The indigenous breed of cow is easily differentiated by its hump, horn and throat skin which are absent in exotic breeds.
Humps:

We see prominent hump in all Vedic Gir cows. We see in all modern species the hump is practically absent. The hump in Vedic cows has a specific vein called Surya Ketu Nadi which is absent in non Vedic ones. This Nadi (vein) absorbs all the energies and radiations from sun, moon and all luminaries from universe and puts them in cow products like milk, urine, dung, ghee (clarified butter) etc. In non Vedic species this divine effect of Surya Ketu Nadi is absent. Therefore Non-Vedic foreign breed HF & Jersey Cow produces A1 Type Milk and Vedic Desi cows produces A2 Type Milk.
A1 & A2 Milk
A1 Milk
A1 milk, which is primarily produced from foreign breeds like the Friesian, Ayrshire, Jersey and Holstein, contains the A1 protein, B Tac, Morphine 7, BCM-7 and B7 that are harmful for human health.
HF & Jersey Cows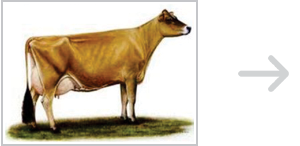 Genetic Variation occurred
in Foreign herds via
modern farming practices.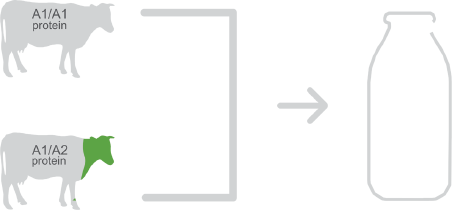 All regular milk mix of A1 and A2 proteins
A1 Milk Associated Problems

Type 1 diabetes in children.

Mental disorder in old age.

Heart disease.

Digestive problems.

High blood pressure.

Coronary artery disease.

Infant death.

Gastrointestinal inflammation.
A2 MILK
The A2 beta-casein is found in desi cow milk of Indian breeds, Indian cows that naturally produce only the A2 protein, So It is also called Amrit. which is considered healthier and better for human health and digestion.
Desi Gir Cows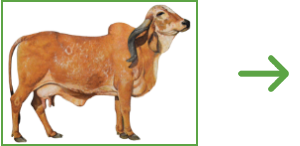 Vedic time Lord Krishna
has served the GIR cow.
The Gir is world-renowned breed.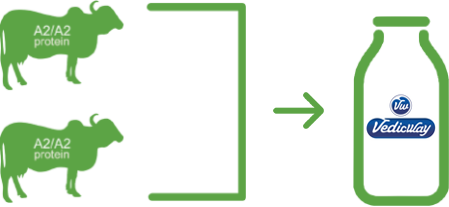 The only milk that naturally contains only the A2 protein
and free fom a1 protein
A2 MILK Associated Benefits

More Omega-6 fatty acids in milk.

Makes body, brain and heart healthy.

Nutritious for children.

Improves the digestive system.

Helps in fat loss.

Increases immune power of our body.

Alternative milk for infants.

Maintains cholesterol level.